S1E7 - 7. Dark Knight Rises, Series Binge Hell: The Dark Knight Trilogy
"Oh crap, I forgot about the orphans!"
April 10, 2020 11:16 AM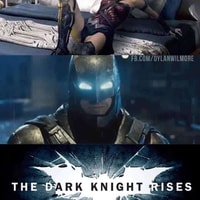 In this week's episode, we discuss the Dark Knight Rises, the third film in the Series Binge Hell for the Dark Knight Trilogy. We meet Bane, the man who brings the Pain. We meet Selena Kyle, who certainly isn't vile. And we meet Talia... who's name doesn't rhyme with anything at all..ia.
Support Wannabe Film Buffs by donating to their Tip Jar: https://tips.pinecast.com/jar/wannabe-film-buffs
Find out more at http://wannabefilmbuffs.com