S1E4 - 4: Godfather, Part III
"Consequences, the movie"
March 13, 2020 10:56 AM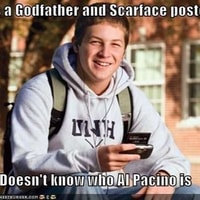 In this episode, we have the third and final episode of Series Binge Hell with The Godfather Trilogy!
In the third Godfather movie, we watch as Michael Corleone experience the consequences of all his life choices.
Opening and Closing Music by Dee Yan-Key. "Carpe Noctum" and "Dreams" Respectively.
Turn up to some axolotl music?
Support Wannabe Film Buffs by donating to their Tip Jar: https://tips.pinecast.com/jar/wannabe-film-buffs
Find out more at http://wannabefilmbuffs.com