S1E1 - 1: Shawshank Redemption
aka, "We Need Prison Reform."
February 21, 2020 6:01 AM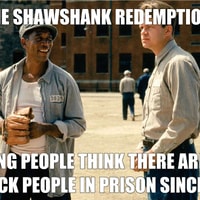 In this episode, Dane and JV talk about the #1 film on IMDb's top 250: The Shawshank Redemption, which tells the story of Andy Dufrense's time in Shawshank Prison after being sentenced for a crime he did not commit. Based on the novella, "Rita Hayworth and the Shawshank Redemption" by Stephen King from the collection "Different Seasons".
Follow us on Twitter. @FilmBuffsPod
Opening and Closing Music by Dee Yan-Key. "Carpe Noctum" and "Dreams" respectively.
Support Wannabe Film Buffs by donating to their Tip Jar: https://tips.pinecast.com/jar/wannabe-film-buffs
Find out more at http://wannabefilmbuffs.com